Transport Phenomena - Heat Transfer Problem :


Heat conduction from a sphere to a stagnant fluid
---
Problem.
A heated sphere of diameter D is placed in a large amount of stagnant fluid. Consider the heat conduction in the fluid surrounding the sphere in the absence of convection. The thermal conductivity k of the fluid may be considered constant. The temperature at the sphere surface is TR and the temperature far away from the sphere is Ta.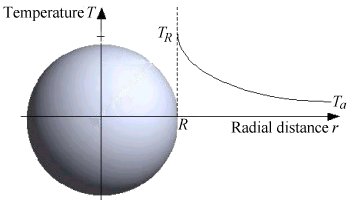 Figure. Heated sphere in a large amount of stagnant fluid.
a) Establish an expression for the temperature T in the surrounding fluid as a function of r, the distance from the center of the sphere.
b) If h is the heat transfer coefficient, then show that the Nusselt number (dimensionless heat transfer coefficient) is given by
Hint
: Equate the heat flux at the sphere surface to the heat flux given by Newton's law of cooling.
---
Solution.
a)
From a heat balance over a thin spherical shell in the surrounding fluid,
where S is the rate of generation of heat per unit volume. In this case, S = 0 in the fluid.
Since the thermal conductivity
k
for the fluid is constant, on substituting Fourier's law we get